JAMES BLAKE ASSOCIATES ANNOUNCE NEW EXPANSION PLANS AS ARBORICULTURAL SPECIALISTS, JP ASSOCIATES JOIN FORCES
Chartered Landscape Architect practice merge with arboriculture firm in the South West of England to further bolster their arboricultural division as part of their multi-disciplinary approach to developments across the UK
Multi-award-winning chartered landscape architect firm and nationwide environmental consultancy, James Blake Associates are pleased to announce the appointment of Jeremy Peirce as their new Director of Arboriculture following the merger with JP Associates.
This new development taking effect from 6 November 2023. aims to further raise the profile and significance of arboriculture and tree development within the practice and provide even more specialist land and habitat management services as well as increasing James Blake Associates' footprint in the UK.
The Devon-based arb consultancy will further strengthen links with new and existing clients in the South West of England and enhance this key area of expertise as part of their fully cohesive multi-disciplinary approach to developments in the commercial, residential, industrial and renewable energy sectors.
With the well-resourced teams and the new expansion plans in place, James Blake Associates offer clients a broader spectrum of services and reach across the UK. Their core areas of the business include landscape design and planning strategy, urban design, ecology, biodiversity net gain, arboriculture, weed eradication and land adoption.
 
James Blake, Chairman and Founder of James Blake Associates, comments; "Jeremy is a well-known force in arboriculture with an outstanding reputation for his proactive commercial and service-focussed approach, combined with a wealth of expertise in his field."
 
CEO of James Blake Associates, Elzbieta Zebrowska, adds: "This forms part of our ongoing growth and development strategy for the practice. Our goal is always to offer clients a breadth of knowledge and reliable expertise to keep delivering greener, more successful schemes nationwide."
 
Jeremy Peirce, Founder of JP Associates; "This is an exciting time to join forces with the fantastic team at James Blake Associates. We share common values with an ongoing commitment to the key principles of "Going Green", offering clients clear, professional advice and efficient sustainable solutions for development and the environment."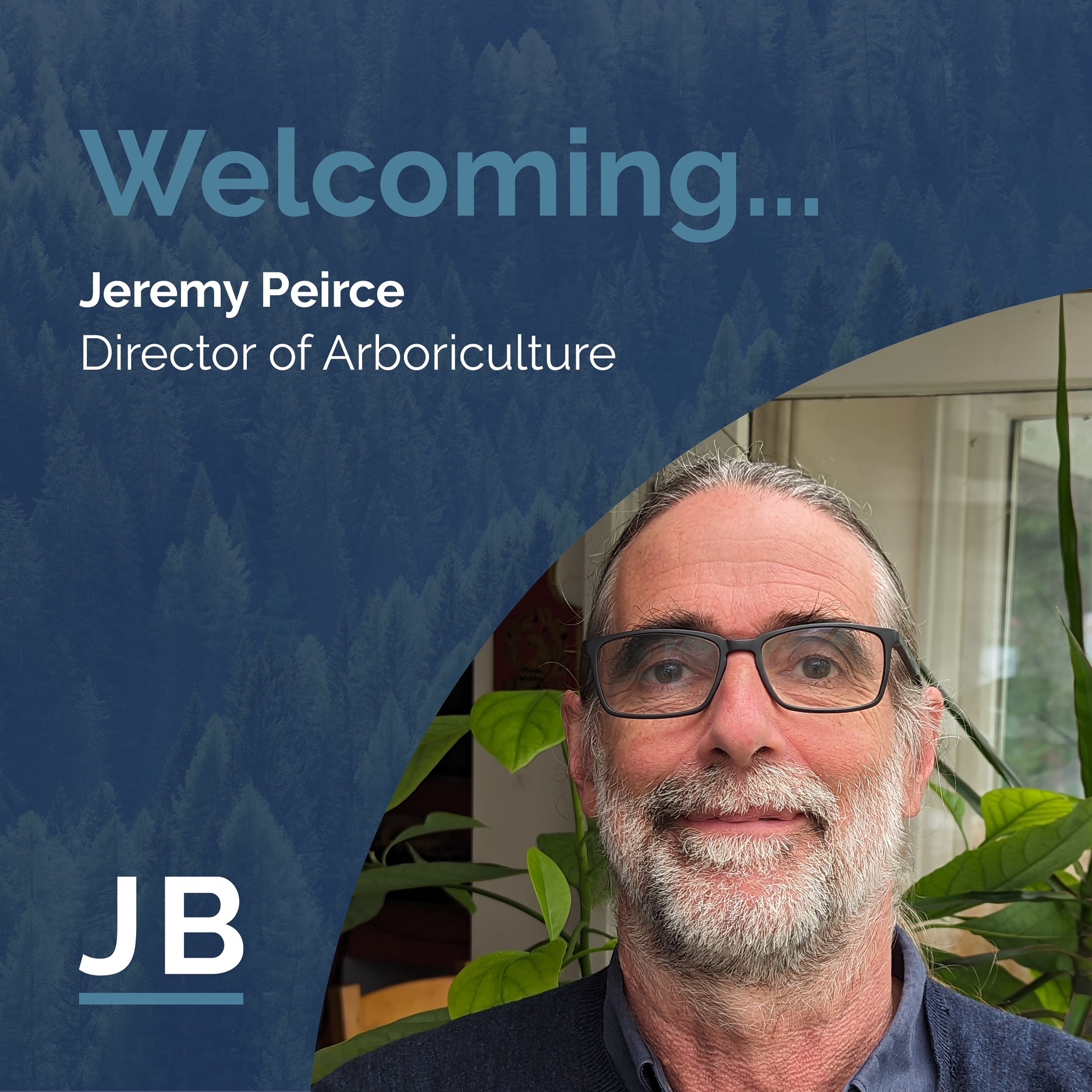 For all media enquiries, please contact:
Kate Berry
jamesblake@jba-landmarc.com
01284 335797
Notes to Editors:
About James Blake Associates
Founded in 1988, James Blake Associates is a multi-award-winning UK Chartered Landscape Architect practice delivering more sustainable developments with exceptional design-led schemes and indepth industry knowledge and experience. With an impressive portfolio of major UK house builders, planning authorities, councils and clients in the commercial, residential and renewable energy sectors, James Blake Associates offer a cohesive turnkey solution covering landscape architecture, urban design, ecology and biodiversity net gain, arboriculture, weed eradication and land adoption to successfully deliver greener, better value places. With a head office in East Anglia, the nationwide business provides continual investment in people and the latest technology to deliver a comprehensive service from a well–resourced team right through the development process covering RIBA stages 1 to 7.
www.jba-landmarc.com
About JP Associates
Founded in 2000, JP Associates is an independent practice and trusted consultancy for arboricultural issues, invasive plants including Japanese Knotweed, land and habitats. The core specialist services cover solutions for arboriculture, trees and development with a wide range of surveys and assessments, regulatory compliance, land and habitat management. The client portfolio includes
working with developers of all sizes, as well as architects, planners and public and commercial sector organisations. The principal area of work is consulting within the BS 5837 process and dealing with trees in relation to development and planning and cover all areas of arboricultural consultancy including tree safety and asset management surveys, tree and woodland management and tree planting schemes. Services also extend to landscape management and design, strategic landscape assessment and ecology and the provision of project management services throughout the development process and including on-site management and inspections.
www.jp-associates.com